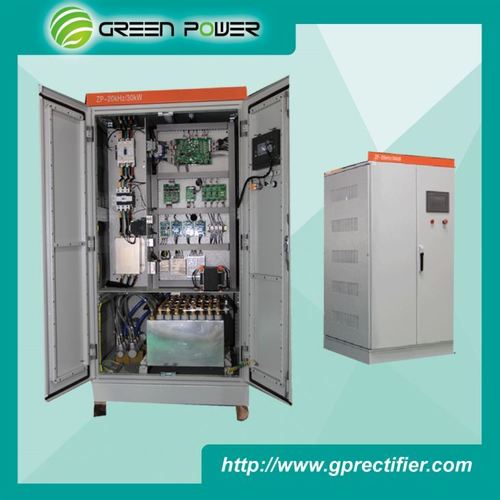 Product Specifications
12KW Watt (w)

Rectifier

340,380,415,440,480 Volt (V)

Single Phase

15000 Ampere (amp)

30-45 Celsius (oC)

90%

Single

IGBT,driving board,Control board,fan

35-50 Celsius (oC)

<65 db

hard chrome plating
Trade Information
Shanghai,Tianjing,beijing,Guangzhou

100 Set Per Month

6-8 Week

Contact us for information regarding our sample policy

Polywood package

CE
Product Description
Our enhanced and intelligent High Frequency Induction Heating IGBT Power Supplies use the new generation power electronic device IGBT power as switching devices in series resonant inverter power supply. Induction heating is the process of heating an electrically conducting object (usually a metal) by electromagnetic induction, through heat generated in the object by eddy currents (also called Foucault currents).

An induction heater consists of an electromagnet and an electronic oscillator that passes a high-frequency alternating current (AC) power supply through the electromagnet. The rapidly alternating magnetic field penetrates to the object and generates electric currents inside the conductor called eddy currents. The eddy currents that are flowing through the resistance of the material heat it by Joule heating. The frequency of the current used depends upon the object size, material type, coupling (between the work coil and the object to be heated) and the penetration depth.

One of the most important features of this process is that the heat is generated inside the object itself, instead of an external heat source via heat conduction. Thus objects can be heated very rapidly. In addition, there will be no need for any external contact that can be important where contamination is an issue. Induction heating is applied in many industrial processes, like zone refining used in the semiconductor industry, heat treatment in metallurgy, Czochralski crystal growth, and to melt refractory metals which require very high temperatures.

Inductive heating power supply applications
Applications include surface hardening, brazing, melting, and soldering and heating to fit. Iron and its alloys respond best to the induction heating, due to their ferromagnetic nature. Eddy currents can be generated in the conductor and magnetic hysteresis can generate in any magnetic material.
Induction heating has been used to heat liquid conductors (such as molten metal) and also gaseous conductors (such as gas plasma). It is often used extensively in the semiconductor industry for the heating of silicon and other semiconductors, such as Silicon carbide (SiC), Gallium Arsenide (GaAs), Sapphire growth, Indium Phosphide and is used to heat graphite crucibles (containing other materials).

Inductive heating power supply features

IGBT insulated gate bipolar transistor modules
Direct modern replacement for SCR technology
Support parallel resonance or series resonance
High Stability within 0.01%
Touch screen HMI
Support integrating capacitors inside
Conversion efficiency>95%
Power Factor >0.95 range from 0 to 100% power
Isolation output transformer
Front access for serviceability
Support all remote control options
Inductive heating power supply parameters

Power Range: 30kW-2MW
Frequency Range: 500Hz – 20 kHz
Resonance: series or parallel
Stability power within 0, 01%
Input power factor: >0.95
Efficiency: >95%
Output regulation: voltage, current or power
Regulation Accuracy: within ±0.5%
Output regulation range: 0-100%
Power requirement: 3 phase 380V, 415V, 480V, 220V, 50/60 Hz
Protections: Over current, over heat, input over/under voltage, over voltage, output over voltage and over current, driving protections etc
Remote control options: Analog signal, RS485 (MODBUS RTU protocol), Profibus, Profinet
Analog Remote control signals

Switch ON or OFF- relay
Output voltage 0-10V/4-20mA
Output current 0-10V/4-20mA
Output power 0-10V/4-20mA
Alarm (over current, over voltage, overheat and so on)-relay
Working condition of the Inductive heating power supply

Used indoor, ambient temperature: -10°~+40°
Phase input: Three phase unbalance degree less than 5%, meet power quality standards
Environment relative humidity: ≤90 %( relative to 20±50oC)
Altitude: less than 2000m
Cooling water requirement: Inlet water temperature 20oC~35oC, inlet water pressure 0.1~0.3MPa, outlet water pressure not higher than 0.05MPa. PH value: 6~8; water quality: resistivity 20 k cm; water flow: depends on output parameters
There should not be excessive amount of explosive, dust, and corrosive gas in the air
The installation place should be without any severe vibration, the vertical gradient should not exceed 5%
The seismic intensity of the installation site should be less than 7 on Richter scale
Other Products in 'AC Power Supply' category