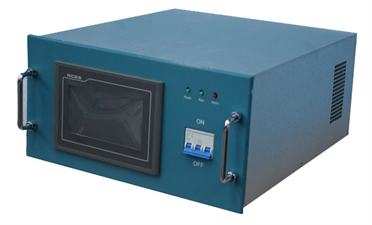 Product Description
IGBT Power Supply
Rectifiers circuit takes the secondary current that is AC from the wall supply and convert it into a direct positive current that is DC. Many products and other hand made tools use direct current. The rectifier is used to provide direct current to the application as required.

What IGBT rectifier is?
High frequency switching IGBT rectifier have three phase. First, AC input to convert DC by rectification and filters. After that, DC voltage is change to DC output by shift phase that is full bridge PWM DC/DC converter. And at last, the power has independent power modules each module work independently or produce power in parallel connection.

Advantage of IGBT rectifier over the SCR
An IGBT (insulated-gate bipolar transistor) uses high frequency switching and PWM (pulse width modulation) technology for current and voltage regulation with a SCR (silicon controlled rectifier) uses relatively low frequency switching and phase shift technology. As it uses high frequency of operation, the transformers used in circuits having IGBT, scan even the tiny and lighter weight particles also. Hence, IGBT based power control circuit are lighter weight, smaller size, cost effective, energy effective as compared to SCR based control circuits.
Nowadays IGBTs widely replacing SCRs because of their advantages and cost effective qualities.

As, we compare IGBT rectification with SCR rectifier, IGBT has many advantages, such as :-

Low investment and maintenance cost.
Because of higher conversion efficiency, low DC output voltage it save more 20% energy.
Because of high frequency pulse output it require less electroplating time.
Compact size, 1/3 as compared to SCR size.
Higher power factor >0.94 avoid government fine due to low power factor.
Power range of rectifier

Input AC 3 phase voltage: 380V, 415V, 220V, 480V
Output DC rated voltage: 6-400V
Output DC rated current: 500A-20000A
Output DC rated power: 5kW-500kW
Cooling option

Water Cooling
Forced Water cooling
Water Cooling vs Forced water cooling

Water Cooling Advantages

minimal cost.
smaller size.
suitable corrosive environment; cabinet sealed.
effective cooling even under the high temperature, up to 50 Celsius.
Better cooling effect for high power rectifier.
Disadvantages

Need own time for cooling water.
Forced Air Cooling

Advantages:

user friendly; doesn't require extra time for cooling.
Suitable for low power rectifier.
Disadvantages:

expensive as compare to water cooling.
Cooling effects are not much effective as compare to water under higher temperature up to 40 Celsius.
The acid corrosive gas may damage internal parts of rectifier and affect the reliability, if rectifier is put closer to electroplating.
Selling Points

Low Fault Rate, High Reliability

mechanical design, reasonable electrical
reliable components selection
strict quality control
Independent Modular Structure

one modular will not affect other running. Hence, has high reliability.
Easy to replace and move
import as assembly. So, reduce import duty.
Flexible combination, get different current output.
Lower cost, compact design, short lead time.
Save space, could install easily.
Software to realize auto control

auto running, process programming.
Soft stop, soft start.
History data record, data logging
polarity reversal available
specified custom design output waveform.
Optional Functions

soft start; stop with time setting
remote control box
output polarity reverse
auto off; timer setting
process step setting; auto running
Comparison With Other Manufacturer

Parameter Advantages

Save Up To 20% Electricity Bills
Plating Time Less Than SCR
Consume Less Power
Better Process Quality
50% Less Weight And Size Than SCR

Performance Highlights

High Relibity

modular structure, module independent running
redundancy design
well craft work
reliable material and components
High Efficience, Power Factor

energy saving, reduce power cost
less anodizing time
non-crystalline high frequency transformer get higher efficiency

High Accuracy And Stability

High Intelligence

touch screen HMI
process curve presenting, automatic running
fault diagnose
module separate output or parallel connected output
Long Life Span

reasonable design with redundancy
good quality component
sealed cabinet for water cooling
DSP digital control
easy operation and maintenance
modular design, easy for repair and replacement
no commissioning needed
simple installation and connection
simple touch on touch screen
compact size, light weight
Flexible Communication Interface

RS485, MODBUS, CANOPEN, Profibus, Profinet, TCP/IP
0-10V or 4-20mA
Complete Protections

input voltage false
output over current, output over voltage
over heat
module failure
water under pressure, water over temperature
Application

Electrochemistry : electroplating, galvanizing, electrorefining, pickling, surface color cathode protection, alkaline electrolyzed cleaning, hard anodizing, tinning.
Heating: plasma heating inductive heating, DC heating, single phase Ac heating
Water Treatment: waste water treatment, seawater desalination
Other: battery charging, motor driving
Other Products in 'IGBT Power Supply' category